In order to more fully recognize and honor the lives of our Student Campus Muster Roll Call honorees, personal items will be displayed as a living memorial in the Muster Reflections Display. Family members of campus honorees submit photographs, letters, stories, Aggie Rings, or other personal items that reflect on their loved one's life and what mattered most to them. It is our hope that we, as Aggies, can create an opportunity for these families to display their favorite things about their honoree and celebrate them by using these items to exhibit who their loved one was, what they did, and how they touched the lives of those around them.
"The Reflections Display allowed us a chance to express our love for Tyrel while letting others know "it's ok to not be ok". This is just another way Texas A&M honored Tyrel and helped us cope with the loss of our beautiful son."
"Many young Aggies got to know a little about my dad, BB "Mac" McCurdy '41, because I participated in the Reflections Display! That brought me great joy! I was honored to have his display in there with so many other great Aggies, both young and old. I would encourage anyone who has lost an Aggie to participate. It was a way to celebrate his life and his time at A&M so many years ago."
"The Reflections Display and Muster felt like an open canvas where we could capture the essence of our daughter's young life and share it wholeheartedly with her Aggie family."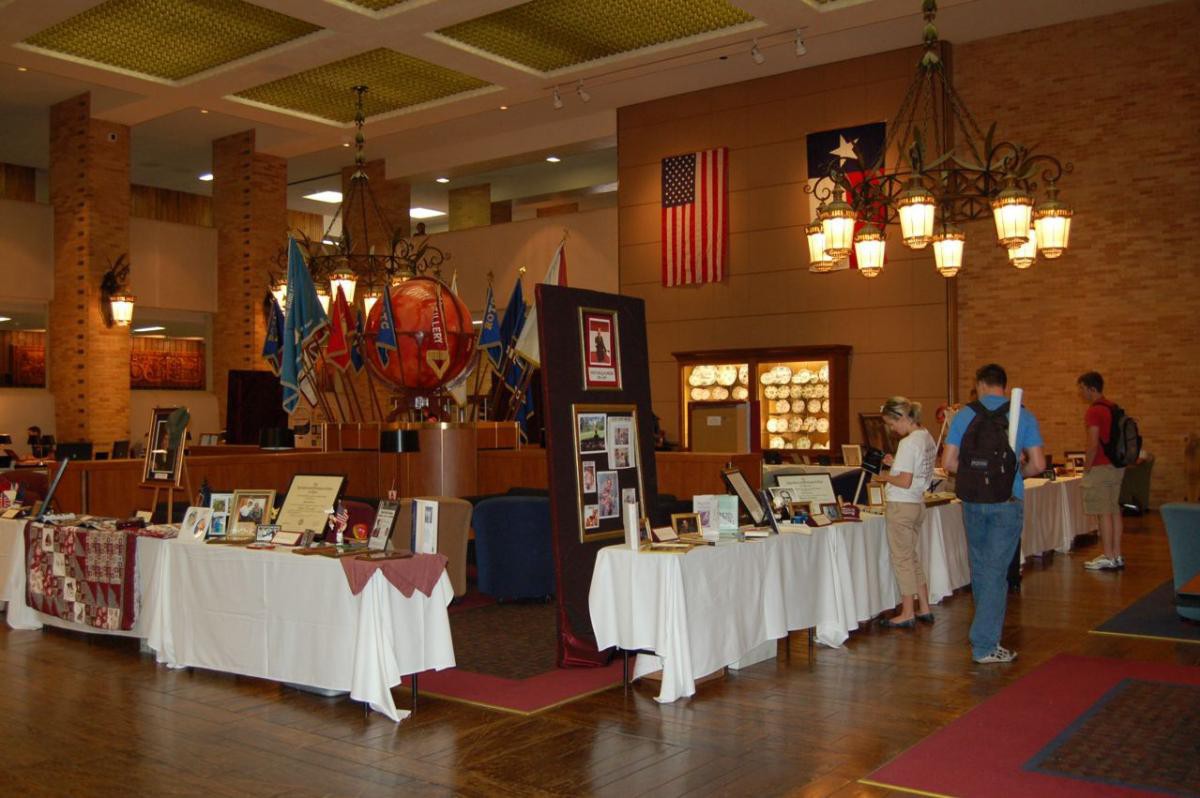 Reflections Display Coordinators
2023 Reflections Display Information
Details regarding the 2023 Muster Reflections Display in the MSC will be announced February 2023.
Q: What is the Reflection Display?
A: The Reflection Display is a memorial honoring the Aggies who are to be named on the campus Muster roll call. It is set up in the Flag Room of the Memorial Student Center the week of Muster. The purpose of the Display is to allow students and anyone on campus for Muster an opportunity to familiarize themselves with the names and stories of those being honored on the roll call.
Q: What kind of items go into a Reflection Display?
A: The items that make up a Reflection Display are up to the discretion of the family or those setting up the display for the honoree. The items are meant to represent who this Aggie was in their time at A&M, as well as before and after. Common items include senior Corps boots, their favorite shirt or hat, awards and other accolades, Aggie rings, photographs, yearbooks or other important books, and letters or notes. We can work to accommodate most items a family would choose to bring, however size is a limiting factor for individual displays.
Q: How big is a Reflection Display?
A: The size of Reflection Display on a table is 2 feet across the front of the table by 2.5 feet back. We can accommodate items that stand behind the tables set up in the Flag Room, or possibly in front of the table as well dependent on size. We also have access to easels, and carpeted display board from which items can be placed upon. We do ask that items displayed on the table do fit on the table space provided in order to accommodate as many families as possible.
Q: How do I get my items to the Reflections Display Coordinators?
A: You have three options for providing the items making up your display to the Reflections Display Coordinators. Items can be mailed to the mailing address provided to you by the Reflections Display Coordinators 2 weeks or more in advance to the Set-Up Day. You can coordinate a date, time, and location in the Bryan-College Station area to meet with a Reflection Display Coordinator to drop off items some day prior to the Set-Up Day. Finally, items can be brought in on Set-Up Day, Sunday, April 15 5-10PM, to the Flag Room of the Memorial Student Center and set up by the family or dropped off to members of Muster Committee to set up. They may also be brought in at any point during the week of the Reflection Display April 16-21 to be set up by the family or members of Muster Committee.
Q: What if I cannot set up my display but can provide it?
A: Members of Muster Committee, especially the Reflections Display Coordinators will be happy to set up a display on behalf of any family who either cannot set it up themselves or choose not to. Once the display is dropped off either in advance or the night of set up (or week of the Display), a committee member will carefully and respectfully set up the items on your behalf in the designated spot for your display. You may also communicate any requests for the display to the Reflections Display Coordinators if you wish.
Q: Do I have access to outlets or extension cords/power strips?
A: Yes, there is access to outlets throughout the Flag Room. If you need power for a video player, music player, or anything else electronic you may use an outlet. As far as extension cords and power strips, Muster Committee does have a limited amount that families can use. If you want to ensure that you have one, you are more than welcome to bring your own but we can accommodate some families who may need them. We ask to be respectful in this space as well in terms of sound level or video content you may be displaying, as well as how many electronic items you might want to bring as dozens of displays will be in the same area.
Q: How will my items be returned for me?
A: Generally, items are returned to the families immediately following the Muster Ceremony the night of April 21st. There is a reception for families after the ceremony ends in the Family Welcome Room in Reed Arena where displays will be available to pick up by the families. If you would like to arrange a pick up time for a whole display or any specific items prior to the end of the ceremony, please contact the Reflection Display Coordinators as they can accommodate a date and time (generally the day of the ceremony around noon) to pick it up.
Q: What does a Reflections Display look like?
A: Displays often vary in what they look like and the make-up is up to the discretion of the family. Essentially, items are placed in a spot on a table and there is space on the ground in front or a display board in the back. Below are pictures are a variety of displays from last year's Display. Pictures can be seen in the gallery tab.
Q: For my items, especially expensive or sentimental items like an Aggie Ring, what type of security do you have? Could you put my item under a glass case or lock?
A: Items will be out on display at all hours during the week of the Display. The MSC closes each night at midnight (12:00 AM) and opens again at 7:00 AM. During this time, the MSC, including the Flag Room, is empty and the doors are locked. During the day, Reflections Display coordinators, other members of Muster Committee, and 6 or more Muster Hosts are constantly in the Flag Room making rounds as a means of security. Reflections Display Coordinators will be there at 7:00 AM when the MSC opens to take inventory of each display, ensuring that all of the items are present. Inventory will also take place before the MSC closes from 11:00 PM to 12:00 AM. For meeting times that Muster Committee has throughout the week leading to Muster where members of Committee will not be present in the Flag Room, a University Security Guard will be hired for extra security. There are also security cameras throughout the MSC to deter people from stealing items. In the event that something is missing, security footage will be reviewed to help locate an item. We have an excellent track record of returning all items to families each year, and expect nothing less than to return every item undamaged back to the families.
2023 Reflections Display Coordinators
Office hours for the 2023 Reflections Display Coordinators will begin in October 2022. Please use the email below in the meantime.
Email: muster.reflections@gmail.com