2021 Campus Muster Speaker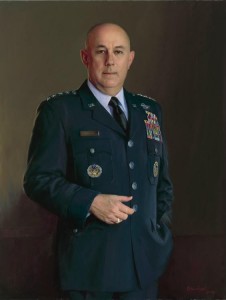 General (Retired) T. Michael Moseley '71
General (Retired) T. Michael "Buzz" Moseley '71, USAF 18th Chief of Staff
General Buzz Moseley was born in Dallas and raised in Grand Prairie, Texas. He entered Texas A&M in the 1967/1968 academic year, marking the beginning of his journey with the university. As a student, he was heavily involved in the Corps of Cadets, serving as the Academic Sergeant on the 3rd Group & 2nd Wing Staff and as a senior, 3rd Group Commander as well as he served on the Cadet Court. Moseley would go on to earn both a Bachelor of Arts and a Master of Arts Degree in Political Science from A&M.
General Moseley completed a distinguished 40+ year military career as the 18th Chief of Staff of the United States Air Force. In that capacity, he served as the senior uniformed Airman responsible for organizing, training and equipping over 700,000 Active Duty, Air National Guard, Air Force Reserve and Civilian personnel.
General Moseley held a variety of operational and staff positions as well as command at all levels. He served as commander of the F-15 Fighter Weapons School squadron at Nellis AFB, the 33rd Operations Group at Eglin AFB as well as the 57th Wing, also at Nellis AFB. He commanded the 9th U.S. Air Force at Shaw AFB as well the U.S. Air Forces, Central Command from headquarters in the Kingdom of Saudi Arabia. His staff assignments include a variety of operational, personnel, educational and policy implementation billets to include holding the Joint Staff position of Deputy Director for Political/Military Affairs for all of the Middle East and Asia as well as serving as the Secretary of the Air Force's Director for Legislative Liaison.
Throughout his life, General Moseley's military service has earned him esteemed recognition. In 2003 he was awarded the General H.H. Arnold Award, the Air Force Associations highest tribute to leadership for his combat innovation and leadership, commanding American, Allied and Coalition forces during Operation Southern Watch, Operation Northern Watch, Operation Enduring Freedom and Operation Iraqi Freedom in combat against hostile Al Qaeda terrorist, Taliban, Iraqi and insurgent forces across South Asia, the Middle East and the across the Horn of Africa. Other leadership awards include the Air Force Association's Life Time Achievement Award, the Secretary of the Air Force's Distinguished Public Service Award, which is the highest civilian recognition of the Department of the Air Force. He has been awarded two Defense Distinguished Service Medals by the Secretary of Defense for combat innovation and leadership. And, upon retirement, General Moseley was awarded his third Air Force Distinguished Service Medal for his principled leadership and personal contributions to national security plus Distinguished Service Medals from the Department of the Army, Department of the Navy and from the Department of Homeland Security.
General Moseley has been inducted into the Texas A&M University Hall of Honor and in 2013 he was also recognized for his accomplishments and dedicated service by the Association of Former Students with the Distinguished Alumni Award with is the highest honor bestowed upon a former student. His military leadership and coalition command cooperation earned him high international recognition, including being "Knighted" by Her Majesty, the Queen of England in being named "Knight Commander of the Most Excellent Order of the British Empire (KBE)." He additionally received equally prestigious awards from the President of the French Republic, the Minister of Defense of the Republic of Singapore as well as from the Kingdom of Saudi Arabia and the United Arab Emirates. He was the first inductee into the Frontier of Flight Hall of Fame in Dallas and has been singularly honored by the Mayor of Grand Prairie and by the Grand Prairie Independent School District in 2007 by having a public school named after him in his hometown – the Mike Moseley Elementary School.
He currently serves as Chairman of Hillwood Aviation (A Perot/Hillwood Company) with offices in Texas and activities on a global scale. He is also President, Chief Executive Officer of Moseley and Associates, an international consulting enterprise, focusing on global security matters and international relations. His family is sixth-generation Texan with a long history of stockmen, cotton farmers and lawmen. General Moseley is married to his high school sweetheart – Margaret Virginia. "Jennie's" family is fifth-generation Texan and operates one of the State of Texas' designated "Centennial Farms" that has been in her family for well over 170 years, raising cattle and producing State of Texas award-winning pecans! He and Jennie have two children and four wonderful granddaughters.