2019 Campus Muster Speaker Nomination
The tradition of Aggie Muster takes place here on campus, and around the world, each year. One of the first tasks of the Aggie Muster Committee is to select a speaker nominated by current and former students. The speaker will address the student body, the honored families, and the 50-Year Reunion Class during the campus Muster ceremony. Some examples of past speakers include the original Twelfth Man, E. King Gill '24 (1964), Governor James R. "Rick" Perry '72 (2002), Texas A&M football coach, R.C. Slocum (2016), and most recently, Kathleen Gibson '81 (2018).
On behalf of Aggie Muster Committee, we would like to extend the opportunity to nominate a speaker for the 2019 Muster Ceremony. While the examples above are among the most well-known Aggies to speak at the on Campus Muster ceremony, we encourage you to consider any speaker who embodies Texas A&M's core values and is connected to our university in a positive way. It is an immense honor to be selected as the Campus Muster Speaker and this individual will be responsible for setting the tone in Reed Arena for thousands of Aggies in attendance.
To nominate a speaker, please visit https://tx.ag/2019SpeakerNominationForm or access the form below and fill out the questionnaire. The form consists of a series of questions inviting you to share why your nominee is a great candidate for the 2019 Campus Aggie Muster Speaker. Please send in your nominations by Friday, October 19th. If you have any questions about this process or your nomination, contact the Speaker Executive, David Pham, at musterspeaker@gmail.com.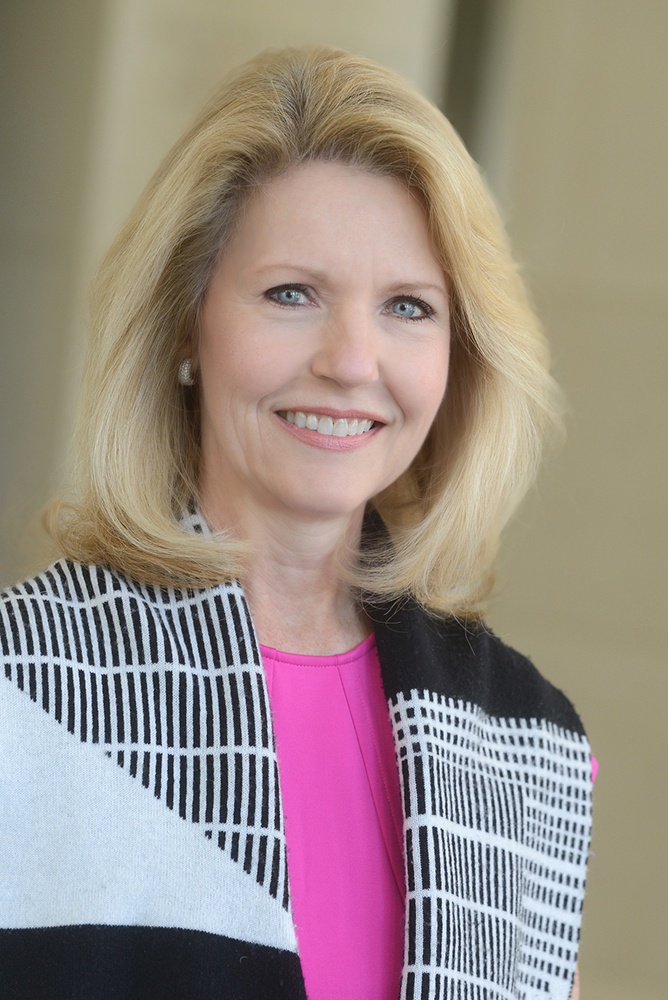 The 2017-18 Aggie Muster Committee has announced Kathleen Gibson '81 as the keynote speaker for the 2018 on-campus Aggie Muster ceremony. Chosen by current students, Gibson learned of her nomination in the Fall of 2017 and has been working closely with these students as they plan the ceremony.
Kathleen Gibson is President and CEO of Southwestern Medical Foundation – a leading charitable corporation supporting advancement in medical education, medical research and medical care.  The Foundation's assets exceed $850 million, arrayed across 1,000 funds, creating a financial resource that enables continuing advances in health care to benefit the citizens of the community and the world beyond for years to come.  During 1943, the Foundation formed Southwestern Medical College, now known as UT Southwestern, and remains its most significant philanthropic partner.
Prior to joining Southwestern Medical Foundation, Kathleen spent thirty years in financial services, holding leadership positions at Bank of America and Citibank.  Kathleen was head of Citibank Texas Commercial, President of Citibank Texas, and President of Central Division Commercial Banking.  She spent twenty-five years with Bank of America and its predecessor banks, with leadership roles in Corporate Banking, Commercial Banking, Asset Management, and Risk – also serving as President of Bank of America-Dallas.
Ms. Gibson has been involved in community activities in Dallas and Texas for many years.  She is a member of the Boards of Southwestern Medical Foundation, Texas A&M Foundation, Dallas Committee on Foreign Relations, Charter 100, Dallas Woman's Club, and the SMU Tate Lecture Series.  She previously served as Chair of the Board of The Association of Former Students at Texas A&M University, and currently serves as a member of the Advisory Board of The Bush School of Government and Public Service.
She has been recognized in the Dallas Business Journal as a 'Top 25 Industry Leader in Women in Business', and by the Profiles in Diversity Journal in the 10th Annual Women Worth Watching edition.  Kathleen is a recipient of Texas A&M's Tyrus R. Timm Honor Registry Award, Women's Legacy Award, and the honor of being names as a Fish Camp Namesake.  She serves on the Advisory Council for the Center for International Business Studies at Texas A&M.  Her prior involvement in civic activities includes serving on the Dallas Regional Chamber Board and Executive Committee, Chairing the Dallas March for Babies Walk, and serving on the Boards of Children's Medical Center, Dallas Center for the Performing Arts Foundation, The Dallas Opera, The Lamplighter School, Dallas Citizens Council, The City Club, and the Dallas 2012 Olympic Bid Committee.
Born in Texas, Ms. Gibson lived several early years in Buenos Aires, Argentina, and Santo Domingo, Dominican Republic.  She earned a Bachelor of Science degree from Texas A&M University, and attended school at SMU in Oxford and SMU in Russia.  Kathleen and her husband, Robert, have two daughters, Catherine and Sarah.
Aggie Muster will be on Saturday, April 21st at 7 p.m. in Reed Arena.