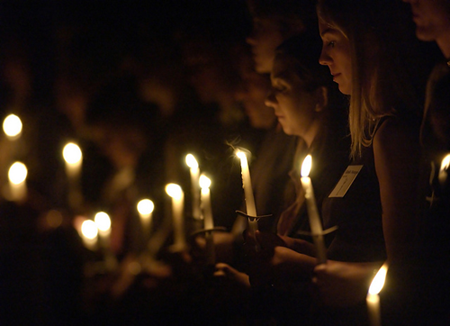 "Softly Call the Muster…"
Being among one of Texas A&M University's most time honored traditions, Aggie Muster is more that just a yearly ritual. Through the Roll Call for the Absent and the lighting of the Muster candles, we signify that every student, current and former, will be remembered. While we often see the images of a Reed Arena filled with those in attendance for Muster, it is the 300 or so other "Hometown Muster's" that continue to ensure the flame of the Spirit of Aggieland remains ablaze.
How to Honor Your Loved One
With Muster being a worldwide tradition, and taking place each April 21st in over 300 places around there world, there are multiple methods by which to ensure that your loved one is honored where they resided.
The Association of Former Students maintains a list of Aggies who have passed away and are to be honored at Muster. This list is available here. This list only contains individuals that the Association has been notified of, to submit a name for the World Wide Roll Call please email SilverTaps@AggieNetwork.com. Many families may also contact the chair directly in order to make arrangements for their honoree.
Being a tradition with roots back to 1883, Aggie Muster has, at its core, been about gathering together with your community. Muster is a time to celebrate our years spent at Texas A&M while taking a moment to remember those who have made the campus what it represents today, the Aggie Spirit.
With this in mind, the Campus Muster Ceremony envokes Roll Call criteria to ensure the legacy of the Muster tradition is upheld. We believe that every Muster is important, and seek to make it known that from Hawaii, to Nebraska, to College Station, no Muster Ceremony is more important or prestigious than another.
Previous Campus Musters have incorporated the Brazos County A&M Club Honorees.  Unfortunately, we have not been able to continue this due to logistical reasons.  If you believe that your loved one qualifies for the Brazos County A&M Club Muster, their information is listed below.
The Brazos County A&M Club Muster Requirements
Former student who resided within Brazos County
Additional Former Students selected the night of Muster
If your loved one meets the requirements to be honored at the Brazos County A&M Club's Muster, please contact us at BCAMCMuster@AggieNetwork.com, and we will send you all the information that you need for him or her to be honored at Club Muster Roll Call.  The website for the BCAMC will provide you with more information and is http://bcamc.org/.